Create Works of Art near Santa Fe NM

Santa Fe is known for having galleries that span ancient traditional art to the most contemporary. In fact, this city is one of the largest art markets in the country.
You can be part of the art and culture, as well, by creating masterpieces of your own. To get started, simply sign up for one of these best art classes near Santa Fe, NM…
Art Adventures in the Southwest: Focusing on the Beauty of the Area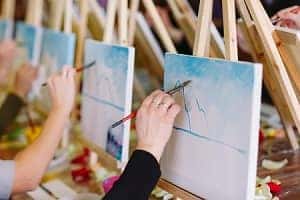 At Art Adventures in the Southwest, classes geared toward varying skill levels and schedules are offered. Each one focuses on the beauty of the Southwest landscape. From the canyon sunsets to the adobe architecture, all of it can be captured here.
While there are various classes you could take, we recommend Sketching & Painting Santa Fe. This 3-hour class is designed to get you outside and enjoying nature. You'll travel to various scenic locations that include mountain views, Southwestern vegetation, and adobe houses. All supplies are included, and you'll even get packaging to easily bring your creations home with you.
For more information, check out Art Adventures in the Southwest on Twitter.
J.F. Mazur Fine Art Studio: Private Studio Open for Class
J.F. Mazur Fine Art Studio was founded in 2011 when owner Jillian Mazur opened the doors to her private art studio in Maryland. A few months later, she relocated to New Mexico, where the studio has been ever since.
About 10 categories of classes and camps are offered to nearly 200 students every year. Children will love After School Art Class or Mommy & Me Art. The painting parties are great for birthdays, showers, girls' night out, and more.
Private classes are available, as well, for 2-year-olds on up to adulthood. With each lesson, you'll work on various art forms like drawing, painting, printmaking, and mixed media.
Check out some of the students' creations on the J.F. Mazur Fine Art Studio Facebook page.
Mantecón Studio: Where You Can Explore & Create Masterpieces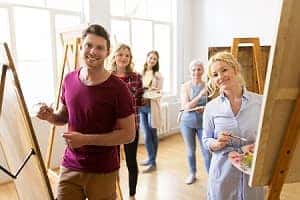 Mantecón Studio opened in 2014 by Lauren Mantecón, an artist with over 20 years of experience. She opened the studio to share her love of art-making with others, and help them explore, play, and create great pieces.
Here, you'll learn a variety of techniques, regardless of your skill level. You'll get to play with pastels, paint, wax, dry pigments, and more to create works generated from your imagination.
Private and group workshops are available as a way to produce ideas and practice art-making. There's also open studio time, where you'll have access to countless art supplies and plenty of room to spread out. You can even work alongside Lauren, as she'll offer occasional instructions and demos.
Learn more on the Mantecón Studio Facebook page.
Enroll in an Art Class near Santa Fe NM Today
Whether you're an art expert or novice, these classes are great for anyone to explore one's creativity. So, be like Georges Seurat, and spend a Sunday afternoon (or any day) taking an art class near Santa Fe, NM!