Have a Noteworthy Event with a Caterer near Santa Fe NM
While there are many things that go into planning an event, there are three big ones that many people focus on: the location, the decorations, and the food.
When it comes to the food, these catering companies know how to please. That's because they have tons of experience in the industry. So, it's safe to say that these are the best caterers near Santa Fe, NM…
Adobo Catering: Providing Food to Spark a Lively Gathering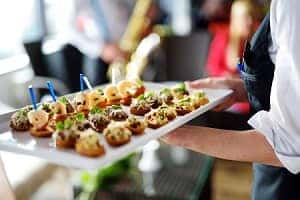 Adobo Catering is a full-service business, acting as both a caterer and event planner. So, if you're planning a birthday party, wedding, or other special event, they can do it all.
It starts from helping you find the perfect location for your event. Or, if you'd rather have it at home, they can bring everything to your address. Then, they'll create a menu that's crafted to your style, so you can be happy with your final selection.
Since the menu is fully customizable, there are tons of options to choose from. For instance, you may want to have Jumbo Sea Scallops or Mini Blinis as appetizers. For an entrée, you could have something like Grilled Filet of Beef Tenderloin with caramelized shallots and Malbec reduction. The possibilities are many!
Check out reviews of Adobo Catering on Yelp.
Peas 'n' Pod Catering: Providing More Than Just Yummy Food
At Peas 'n' Pod, they believe that food is serious business, but catering itself can be a lot of fun. They love custom-designing menus for each of their clients, with each food item bursting with flavor.
However, they do more than just provide delicious food. They love giving back to the community, as well. In fact, they provide catering support for organizations like the New Mexico Museum Foundation and the Santa Fe Animal Shelter.
When it comes to your event, you'll first need to decide what type of food you want. If you're having a conference at work, you might want to look into their boxed lunches. There are various sandwiches to choose from, like Parisian Ham + Brie and Madras Curry Chicken Salad. And each sandwich comes with a bag of chips, fruit, and a cookie or brownie.
Discover more menu options on the Peas 'n' Pod Catering Yelp page.
Walter Burke Catering: Creating Events as Unique as You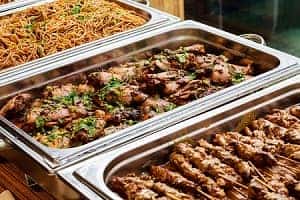 Walter Burke Catering started in 1981 as a way to prepare food and send it wherever and whenever customers needed it. This has taken them throughout New Mexico, as well as Arizona, Texas, California, and more.
It doesn't matter if your event is in a garden, on a rooftop, or in an art gallery, as every room is a dining room to them. Plus, they'll supply more than just the food. They can also help coordinate entertainment, floral arrangements, security, and valet. Whatever you need for your special day, they'll provide it.
Furthermore, they have menus for all types of cuisine. If you want Southwestern, choose from appetizers like Shrimp Diablo with avocado salsa. Want a Continental entrée? There are options like Grilled Muscovy Duck Breast with pomegranate chutney. What about an Asian dessert? Try the Asian Fruit Salad with mango yogurt and an almond cookie.
View more tasty fare on the Walter Burke Catering Facebook page.
Book a Santa Fe NM Caterer Today
Do you have a special occasion coming up? If so, we're sure you'll want yourself and your guests to remember it forever. Help make it an unforgettable event by booking a caterer near Santa Fe, NM, today!