Enjoy Some Spice at the Best Mexican Restaurants near Santa Fe NM

Expertly prepared Mexican food has a unique and appealing zest that dazzles the taste buds and satisfies the hungriest stomach. If you're eager to enjoy some south-of-the-border cuisine, try these best Mexican restaurants near Santa Fe, NM. The eateries on this list are considered local gems and always come highly recommended for tourists.
So, get to know some of the stand-out establishments in this vibrant Southwest city!
Maria's Santa Fe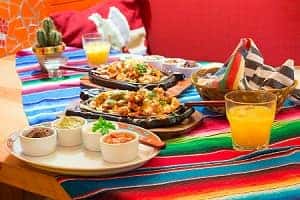 Everything at Maria's Santa Fe is colorful, whether you're talking about the décor, the delightful food, or the drink list!
The menu is a savory and varied combination of Mexican classics, including the Beef or Chicken Fajita, the Fiesta Tamale Plate, and the Beef Chimichanga. If you'd like to try some fresh seafood, the Grilled Ruby Trout comes highly recommended. This entrée features sautéed zucchini, yellow squash, tomatoes, green chile rice, and chile chipotle lemon butter.
If you're coming to Maria's, you have to check out the drink section, too. This varied and vibrant list has over 100 different options. Learn more about this entire establishment by checking out Maria's Santa Fe Facebook page!
Sazón
The modern ambiance of the renowned Sazón pairs perfectly with their earthy menu and charming service.
The dinner menu is refined and classy, with fresh ingredients cooked to perfection in every dish. The Berenjena, or stuffed eggplant, is a long-time favorite, and another is the daily special, which is selected by the chef and changes depending on the season to guarantee freshness.
If you head over to the bar, you can choose between decadent wines, colorful cocktails, or your favorite local brew. Further explore the wonders of Sazón by checking out their Facebook page!
Tia Sophia's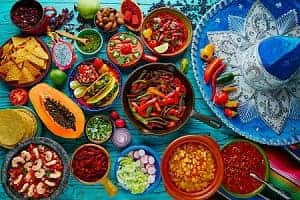 The charm of Tia Sophia's is evident as soon as you step through the door and are warmly greeted by a friendly server.
This eatery has a delightful breakfast menu for early-risers, featuring dishes like the Huevos Rancheros and the Atrisco Plate. The lunch menu is also mouthwatering, with Sophia's Sandwich being a must-try that comes with ham and melted cheese on an open-faced flour tortilla.
Tia Sophia's is the epitome of a family restaurant. To see pictures of their dishes and read reviews from happy customers, check out their Facebook page.
Enjoy a Taste of Mexico
Stop into any of these highly acclaimed Mexican restaurants for a charming meal filled with good food, refreshing drinks, and plenty of laughs!