Here's Where to Get the Best Burgers near Santa Fe NM

Whether you prefer it plain or loaded with toppings, there's something about a burger that gets people's mouths watering. We're assuming it's because they're thick, juicy, and have tons of flavor.
When you're craving a burger, only the best will do. If you're not sure where to get one, just keep reading to find the best burgers near Santa Fe, NM.
The Burger Stand at Burro Alley: Serving Handcrafted Beers & Eclectic Burgers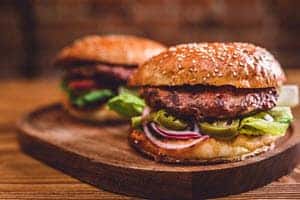 If you're looking for some handcrafted beers and unique burgers, then stop by The Burger Stand at Burro Alley.
Here, you'll find juicy burgers, homemade condiments, and locally baked brioche buns, for a truly tasty sandwich. Plus, they cater to vegetarian and gluten-free diets, making their meatless patties in-house.
One burger you might want to try is the Kobe. It consists of American Kobe beef, pickled red onions, truffle butter, tomato-aioli sauce, and local greens. With any of their burgers, you'll want to pair it with a beer or milkshake. With the latter, our favorite flavors are Butterfinger Blitz and Oreo Avalanche.
For more information, visit The Burger Stand at Burro Alley on Facebook.
Del Charro: Where You Can Saddle Up & Head on Over for Happy Hour
Del Charro is known for being "Santa Fe's watering hole," where people love to stop by and hang out during Happy Hour.
They have lots of delicious beers and cocktails to choose from. We especially like the Classic Silver Coin Margarita, White House Sangria, and Texas TIC (Texas Irish Coffee).
But, what would a drink be without a tasty burger to complement it? If you're looking for something hearty and a bit different, try the Stuffed Green Chile Cheeseburger. Fresh ground beef is seasoned with chipotle BBQ sauce, stuffed with applewood smoked bacon, autumn roasted green chile, and gorgonzola cheese, and topped with house-made green chile relish.
Check out more food and drink options on the Del Charro Facebook page.
The Pantry: Where Friends & Family Meet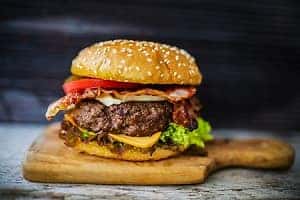 The Pantry opened in 1948 by George Myers, who set the standard of quality and excellence that the restaurant is still known for. Since its inception, there have been several owners. Today, the Singley Family runs the establishment and plans to continue its tradition for a long time.
They serve breakfast, lunch, dinner, and dessert. While all their options look good, we can't recommend the burgers enough.
We especially love the Tortilla Burger, where the meat is served inside a flour tortilla with pinto beans, chili, and cheese.
Learn more on The Pantry Facebook page.
Bite into a Juicy Burger near Santa Fe, NM Today!
If you're hankering for a burger, then don't wait. Stop by any of these restaurants near Santa Fe, NM, today!