Grab a Bite at Plaza Café Southside!
At Plaza Café Southside, each dish features fresh ingredients with recipes that have been passed down generation after generation. With a variety of food to choose from on their menu, each dish comes with the common thread of being made from scratch.
They bake all their pastries and desserts daily, use local, grass-fed beef, and only cook with cage-free eggs. Even their breads and tortillas feature the best ingredients around!
If you are in the Santa Fe, White Rock, or La Cienega area, you'll want to stop by Plaza Café Southside for a great dining experience!
Start Off Your Morning at Plaza Café Southside
You can stop by for breakfast and grab something quick, like their Blueberry Muffins or Harvest Oatmeal. They also have larger meals to get your day started off on the right foot with their Chile Relleno Omelet, Breakfast Burrito, and Huevos Rancheros.
Satisfy the kid in you with their Signature French Toast that is topped with a maple mascarpone frosting or their Blue Corn Pinon Pancakes that you can smother with their orange butter and cinnamon syrup. Whatever you choose to have, make sure you also get an order of their thick-cut sugar-cured bacon for a sweet and salty treat!
Vast Options for Lunch and Dinner
From salads to burgers, the menu at Plaza Café Southside has something for everyone. House specialties like their Crispy Avocado Tacos and Baja Style Fish Tacos are favorites among diners. Their Cheesy Green Chile Cheeseburger is topped with hatch green chile and melted layer of double sharp cheddar cheese.
They also have traditional New Mexican dishes like the Santa Fe Frito Pie and the Enchilada Platter that lets you choose between carne asada, ground beef, chicken, or vegetables.
Stop by for Happy Hour!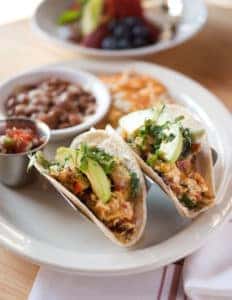 To wash down all that delicious food, you'll want to order one of their margaritas! The prickly pear or lime frozen margarita will refreshingly hit the spot. Add a little heat to your meal with the Cool and Hot Margarita that is made with jalapeno-infused agave tequila.
They also have a list of draft beer that features choices from some local breweries like La Cumbre and Santa Fe Brewing Company. Be sure to stop by between 4-6PM for their happy hour for drink specials and half-priced appetizers like their Plaza Nachos.
Enjoy Some Quality Food at Plaza Café Southside
Whether you're looking for a quick bite, to have a couple drinks with friends, or a nice meal out, Plaza Café Southside is the place to go for delicious, authentic food made with fresh ingredients!