Range Rover Velar Lease

The Range Rover Velar is a stylish midsize SUV with lots of features. If you're interested in the car, but aren't sure about a long-term commitment, you could always lease it.
At Land Rover Santa Fe, we'll go over leasing this vehicle near Santa Fe, White Rock and La Cienega. Read all about a Range Rover Velar lease below, and contact us if you have any questions.
Benefits of Range Rover Leasing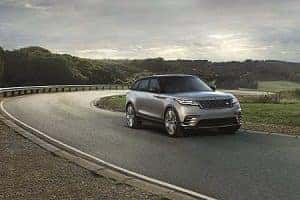 Leasing is a great option for those wanting the newest features without a long-term commitment. Most lease terms last about three years. After that ends, you can simply return the car to the dealership and exchange it for a new lease. Or, you can choose to the buy the car. The decision is completely up to you.
Leasing is also great because you're generally paying less per month than if you were financing the car. This is because you're only paying for the depreciation of the vehicle's value during that lease term, plus taxes and fees. But if you buy a car, you're paying off the entire purchase of a car, along with interest and other fees.
Range Rover Velar Features
If you're looking to lease a midsize luxury SUV, a great option is the 2018 Velar. It has great fuel economy, achieving an EPA-estimated 21 city/27 highway mpg.
It also has plenty of room to fit all your needed items inside. Behind the second row of seats, there's 34.4 cubic feet of cargo space. Fold those rear seats down, and the space expands to 70.1 cubic feet.
In addition, the Velar has an innovative and responsive infotainment system with dual touchscreens. Touch Pro Duo lets you view and interact with multiple features at once. For example, you can use the navigation system on the upper screen while scrolling through your music options on the lower one.
Range Rover Velar Lease Specials & Incentives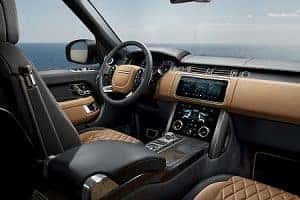 If you're wanting to lease a Velar, check out our specials page to view our current offers. Our leasing specials usually include paying a certain amount per so many months (typically 36). You'll need to put down a certain amount at signing, but this is to keep the monthly payments as low as possible.
Plus, if you lease a Land Rover, you'll have several benefits to take advantage of, such as:
Choosing a new vehicle every 24 to 48 months.
Flexible lease terms to help you decide how long to keep your Velar.
Convenient lease-end options: At lease maturity, either trading it in for a new vehicle or buying it.
You can also opt for a single-pay lease. By paying the entire amount at the beginning of the lease, you won't have to worry about monthly payments. This way, you can enjoy the Velar and wait until later to decide if you're going to keep it or trade it in for a new vehicle.
Learn More About Leasing a Range Rover Velar
If you're interested in a Range Rover Velar lease, then contact our finance center for more information.
At Land Rover Santa Fe, our team will help get the right lease terms for you. We'll make the process as easy as possible, so you can drive around Santa Fe, White Rock and La Cienega in a new Velar as soon as possible.
So, don't wait. Contact us today to get started!