Romantic Restaurants near Santa Fe to Spend Valentine's Day
Valentine's Day is on the way, and it's time to start planning, so you can craft the perfect evening with you and your loved one. You've got to order the flowers and find the right gift; however, you also need to plan the night out. Luckily, there are some great restaurants in the Santa Fe area that provide a classy and romantic experience that would be perfect for your Valentine's Day dinner.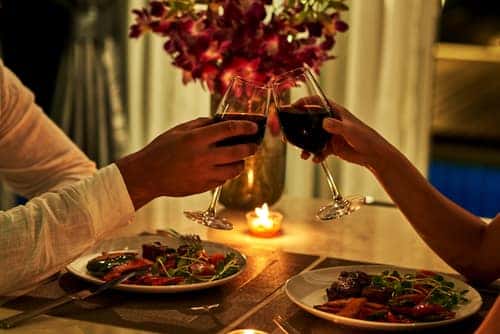 Here's our list of the best romantic restaurants near Santa Fe to spend your Valentine's Day.
The Compound
653 Canyon Road, Santa Fe, NM
The Compound in Santa Fe offers a scenic and upscale experience to its diners. The menu offers a variety of compelling flavors, classic dishes, and interesting twists that provide a unique assortment of styles and tastes. Sample the menu courses and start off with a fresh soup or crisp salad before working your way down towards entrees like Organic Scottish Salmon, Slow Braised Osso Bucco, or Maine Lobster Carbonara, all while enjoying the beautiful views and great service to make your Valentine's Day memorable.
Joseph's of Santa Fe
428 Agua Fria Street, Santa Fe, NM     Facebook  |  Instagram
If you're looking for a unique experience for your Valentine's Day date, you may want to check out Joseph's of Santa Fe. This restaurant provides a stylish and interesting décor, as well as delicious food options that you'll want to try. You can snack on appetizers like Duck Fat Fries, Crispy Fried Quail, or Hawaiian Tuna Poke while you're reviewing dinner options like Steak Au Poivre, Duck Cassoulet de Santa Fe, or even Rabbit Lasagna. Make sure that you save room for dessert, with items like Cloud Cake, Butterscotch Pudding, and unique sorbet flavors that can be paired with different dessert wines.
La Fonda on the Plaza
100 East San Francisco Street, Santa Fe, NM     Facebook  |  Instagram
Instead of just doing a romantic dinner, why not make the entire night romantic? On top of delicious food and great drinks, you can find a room at La Fonda on the Plaza to stay overnight. This historic hotel has been a staple since the 1600s. It's home to several restaurants and nightclubs that offer different experiences to help you celebrate Valentine's Day the way you want. You can even take a stroll through town and enjoy the romance of the evening.
Now that you're familiar with some of the most romantic restaurants in Santa Fe, you're ready to plan ahead for Valentine's Day!