Top Kids Activities in Santa Fe NM
Around the United States, there are certain cities that are better for families than others—certain places just don't have enough for kids to do! Luckily, Santa Fe is wonderful for kids of all different ages. Without further ado, check out this guide to the top kids activities in Santa Fe, NM.
All Out Zone: Family-Fun Entertainment Center
All Out Zone is the place in Santa Fe where kids can go, well, all out. They feature the stuff of just about every energetic kid's dreams, such as Nerf Dart Tag, Soft Tip Archery, Virtual Reality, and more!
Not only is this spot great for families, but it's perfect for birthday parties, graduations, celebrations, and even adult retreats (corporate events, team building, and more). Bring those wild ones to 4250 Cerrillos Road in Santa Fe, NM. You can also call them at (505) 428-0172 for more information.
Everybody knows that little boys and girls tend to be fascinated by little insects. Now, you can act on that knowledge by bringing the lil' ones to Harrell House Bug Museum in Santa Fe, NM, where the creepy crawlers are at.
Be sure to call them at (505) 695-8569 with any questions regarding the thousands of mounted insects they have on display. They also have 150-plus live insects, spiders, scorpions, millipedes, and more to check out.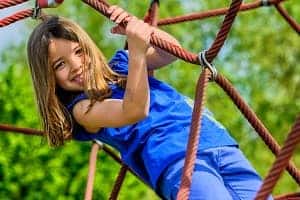 It's like children have this innate desire to climb everything they can. Sometimes, this is good when they're climbing trees and jungle gyms. Other times, this is not so good, especially when they start climbing railings, couches, and the backyard fence. Help them to get all that energy out of their systems at the Santa Fe Climbing Center.
At the climbing center, you'll find indoor rock climbing, guiding for outdoor trips, and even climbing classes for adults and kids. Started in 1989, this climbing epicenter has everything you need for a great family activity!
Let the Kids Have a Blast!
Stop worrying about what you're going to do to keep your kids active and entertained this summer. Swing by any of these three spots for an activity-filled day that's perfect for children and parents alike!