Used Car Dealer near Tesuque NM

Tesuque is a small community in Santa Fe County, NM, that's comprised of a little more than 900 residents. This small yet tight-knit community has plenty of sights to see for any nature lover. Tesuque Tesuque, New Mexicofeatures a lot of densely wooded areas filled with plenty of hiking trails. The community is also home to several artists and writers, making it a community that nurtures creativity and expression.
Tesuque is location in between two notable parks, the Valles Caldera National Preserve and the Santa Fe National Forest, which are filled with natural beauty and breathtaking views. When you're in need of a reliable vehicle, you may want to seek out a used car dealer near Tesuque to get started. Luckily, Land Rover Santa Fe can help you!
Checking Out the Inventory at Our Tesuque NM Used Car Dealership
If you're in the market for a set of wheels, then having a used car dealership near Tesuque can be advantageous. You can easily make the trip over to our dealership to get a look at what we've got in stock. However, if you'd rather relax and enjoy the comforts of Tesuque, then you should know that you can browse the different makes and models on our lot while you're at home. All you have to do is go to our website to start checking out the various makes and models that we have. By doing so, you can figure out your options before making the trip to our dealership.
Getting Help from Used Car Experts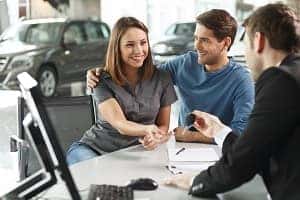 When it's time to get some more details on the models that you're interested, you'll want to make the trip to our used car dealership from Tesuque. When you get here, you can rely on our used car experts to help you get a sense of what your favorite models offer. They'll gladly provide you with the specs and details, as well as inform you of what impressive features and amenities are included with the car.
When you have enough to whittle down your list to the final vehicle, we'll help you get a better feel for it by putting you right into the driver's seat, so you can experience its performance out on the road. The test drive is one of the most important steps of the car buying process because it allows you to get a sense of what the vehicle is like and how you feel about how it handles.
Used Car Financing near Tesuque NM
Once you've taken the test drive, you're satisfied with the experience, and you're ready to cruise down the road in your new-to-you car, we'll take you to our finance center to complete the process. We'll lay out your options and provide you with the nitty gritty details so you can make the decision that right for you.
At Land Rover Santa Fe, we're proud to help Tesuque drivers find a used car that they can rely on.