Brake Repair near Me Santa Fe NM

The braking system in your vehicle is essential to keeping you safe on the road. Whether you're slowing down to make a turn or avoid a collision, brakes help the drivers of Santa Fe, White Rock, or La Cienega, NM dodge all kinds of dangerous situations.
So, if you've noticed that your brakes aren't functioning properly, you may be ready for a break repair near me. And for professional technicians, head on over to our advanced brake shop where our mechanics at Land Rover Santa Fe will get you services that will keep you on the road.
Signs That You Need a Brake Repair
The simplest way to detect if you need a break repair is to listen to the sounds your car makes. For example, if you hear screeching or humming when you apply the brakes, this is a signal that your vehicle needs brake service.
That's because the wear indicator on the car's braking system warns you that the brake pads should be replaced by producing a screech. If you've been hearing this sound while driving, make sure to call your local service center to schedule an appointment for a brake check.
On top of that, you'll be able to determine if you should schedule a brake repair by paying close attention to certain movements from your automobile. If you notice any vibrating, pulling of the wheel, or shaking, this could mean that your brake pads are beginning to wear down.
What to Do About Squeaking Brakes
Why Does My Car Shake When I Brake?
Brake Repair Services near Santa Fe NM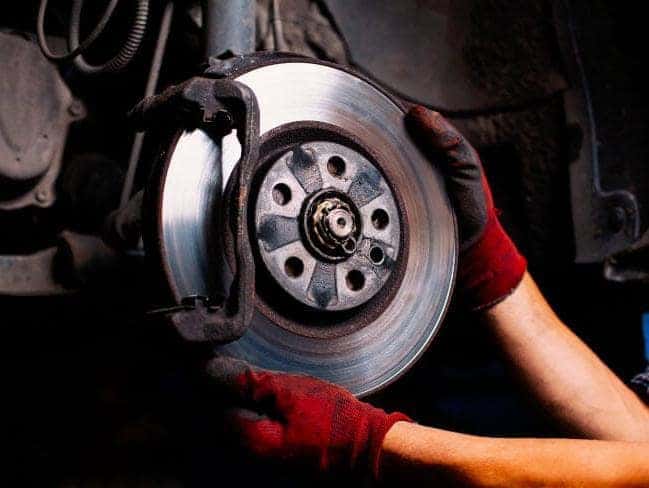 At our brake shop, we're committed to helping you easily schedule service. That's why we offer a number of different ways to do exactly that. To quickly line up an appointment, check out our online scheduling tool.
Once you've arrived at the page, all you need to do is enter information about you, your vehicle, and a convenient date and time. After we've received the details of your reservation, we'll reach out to you to confirm.
In addition, you can always pick up your phone and give us a call to schedule your brake repair. Our friendly representatives will gladly provide you with the available times for your service. That way, you can choose the one that's best for your busy life.
If you'd prefer to speak with our mechanics in person, feel free to visit our facility. By doing this, you'll get a first-hand look at our center and meet the technicians who'll be performing your brake repair. From there, our team will assist you in making an appointment.
Be sure to check out all our service specials before your next maintenance appointment…
Schedule Brake Repair near Me
At Land Rover Santa Fe, we'll go above and beyond to keep your vehicle in top-notch health. As part of our commitment to you, we'll carefully inspect every inch of your automobile and appropriately identify the issue. That way, you'll know that your car has received repairs and maintenance of the utmost quality.
Plus, our staff comes equipped with genuine parts and tools to use while repairing your brakes near Santa Fe, White Rock, and La Cienega, NM. So, if you realize that your vehicle requires some attention, give us a call, visit our service center, or schedule your appointment today!