Download the Certified Pre-Owned Checklist Today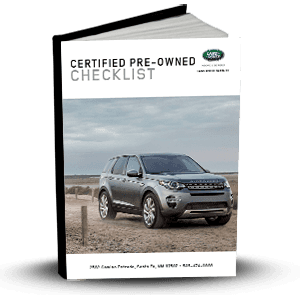 If you're on the hunt for a new ride in Santa Fe, White Rock, or La Cienega, there are three options available to you: new, used, and certified pre-owned (CPO).
If you're not familiar with that third choice, we'll help you out. Our team at Land Rover Santa Fe created this Certified Pre-Owned Checklist to break down what these cars have to offer.
In this detailed guide, we'll cover:
What a CPO vehicle is.
The benefits of buying a certified pre-owned car.
How to go about buying one.
We'll also give you a mini checklist, highlighting some of the many steps that go into a multi-point inspection.
In addition to having this wealth of information at your fingertips, you'll receive a money-saving offer to use at our dealership.
So, don't wait. Download your free copy of the Certified Pre-Owned Checklist, then start car shopping today!