Download Your FREE 6 Steps to Buying a Luxury SUV eBook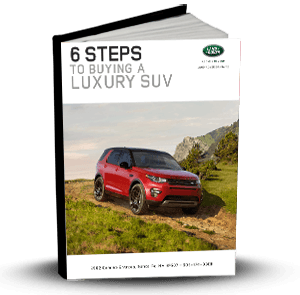 When it comes to tackling every item on your to-do list, there's nothing better than being equipped with a full-throttle automobile. And with a luxury SUV, you'll have everything you need to dominate the day and transport your family to all your events. But how do you know what steps to take to snag one for yourself?To help you along the way, we're here with this
6 Steps to Buying a Luxury SUV eBook
. After reading through this FREE guide, you'll gain a valuable education on the exciting journey to getting your hands on a luxury SUV.
In this eBook, we'll run through the details of every phase of the luxury SUV buying process, such as:
Creating a budget
Calculating your trade-in value
Doing your research
Locating and test driving your SUV
Understanding warranties
Caring for and enjoying your new vehicle
As if that weren't enough, this FREE eBook comes packed with convenient coupons that'll help you save some cash when it's time for you to buy your new automobile!
Why wait to take advantage of all the perks included in this comprehensive guide? Download our 6 Steps to Buying a Luxury SUV eBook now and start learning about how easy it is to score an impressive ride.