How Often Should Tires Be Rotated?
A tire rotation is a simple maintenance item that should be completed to keep your tires in good shape and your vehicle running smoothly. At Land Rover Santa Fe, we're here to provide an answer for how often tires should be rotated.
As you travel throughout Santa Fe, White Rock, and La Cienega, make sure you're doing so in a car that's safe to drive. Our rotation process is designed to be quick and efficient, so you can return to the roads as soon as possible, with tires that wear evenly and provide a comfortable ride. If you think it might be time for a rotation, contact our expert technicians today.

Rotating Your Tires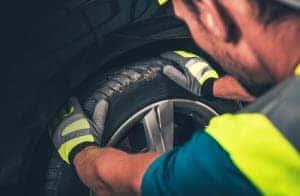 In general, the best time to rotate your tires is when having an oil change completed. This is about every 7,500 miles, as most manufacturers have laid out for new cars. Some manufacturers say cars don't need an oil change until you've driven 15,000 miles, but a tire rotation should be done before that point. Try to stick to the general 7,500-mile rule.
The tires on the drive wheels take on extra work because they apply power to the road. On a front-wheel drive vehicle, the front tires will do most of the heavy lifting due to the weight of the engine and transmission. When rotating the tires between the front and back, they'll wear more evenly. All-wheel drive vehicles should still have their tires rotated, too, and we'll let you know when that should be done.
Often, the most common rotation pattern includes moving the front tires to the rear and the rear tires to the front, the latter being crossed over in the process. For example, the right rear tire ends up on the left front.
Why Rotate Tires?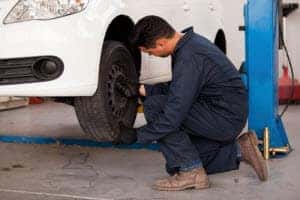 A rotation extends the life of your tires and protects you while driving. When rotating the tires, it ensures your car provides balanced handling and steady traction. More even tread wear means you can avoid having to install new tires frequently. Rotating them can also provide a stronger overall performance of the vehicle.
If tires are left on the wheels without a rotation, the outside part of the front tires will wear down sooner, requiring a replacement. When rotating tires, we'll also be sure to check the air pressure in each one, adjusting as needed.
Our Tire Service Center
When your car is equipped with the proper tires, it'll provide the best possible traction and performance. Our Land Rover tire shop can install new tires and sells many brands from top manufacturers in the industry.
If you're searching for a new set of tires, feel free to call us today to order them or schedule an appointment online. We'll confirm with you a time to install these new tires and get you on your way as soon as possible.
Complete Land Rover Service
We hope this article has been of assistance in explaining how often your tires should be rotated. At Land Rover Santa Fe, we're proud to serve drivers in Santa Fe, White Rock, and La Cienega.
Our tire rotations will be quick and easy, so you can get back on the road as soon as possible. Contact us to schedule a service appointment today!