Land Cruiser vs Range Rover

Your family deserves the best. And when it comes to your journeys through Santa Fe, White Rock, and La Cienega, you shouldn't be forced to put up with an underpowered ride.
Take the 2017 Land Rover Range Rover and the 2017 Toyota Land Cruiser. Both these SUVs are equipped with updated technologies, however, only one will see you through every obstacle the terrain throws your way.
To find out which of these SUVs dominates the competition, check out this 2017 Range Rover vs. 2017 Toyota Land Cruiser vehicle comparison, created by Land Rover Santa Fe. Before long, you'll know which of these options will have you soaring along the path to your next destination.
Contact us today!
Performance and Handling
When it comes time for you to tackle the landscape, nothing should stand in your way. That's why the 2017 Land Rover Range Rover packs a punch underneath the hood. Tucked away inside this forceful SUV, you'll discover the industry-leading 5.0L Supercharged V8 motor that surges forward with the strength of 550 thoroughbred horses and 502 lb-ft of torque.
On top of that, this luxurious vehicle will automatically inform you when to change the selection on the optional Terrain Response® 2 system.
With this gadget, you'll be in full control of how your car handles the road with options like General Driving, Grass/Gravel/Snow, Mud and Ruts, Sand, and Rock Crawl. That way, you can quickly choose the best setting for the terrain and get going.
Alternatively, the 2017 Toyota Land Cruiser offers up a 5.7L V8 engine that produces 381 horsepower and 401 lb-ft of torque. But without the command provided by its Land Rover counterpart, you may struggle to advance along your route when armed with this SUV.
In addition, this vehicle also presents a Multi-terrain handling setup that features choices like Rock, Mogul, Mud & Sand, and other options. However, this system doesn't include quite the same selection as the Range Rover.
2017 Range Rover vs 2017 Toyota Land Cruiser: Technology
While you're navigating the path to your family's favorite ski resort, you've got to be supported by a bevy of entertainment and information tools. Fortunately, that's precisely what you'll find inside the 2017 Land Rover Range Rover.
From the responsive, 10-inch InControl Touch Pro™ display, you'll access an array of standard, high-tech amenities like Sirius XM®, Bluetooth®, a Wi-Fi hotspot, and much more. Navigation functionality is also standard in this setup and provides a bright path to your next destination.
On the other hand, the 2017 Toyota Land Cruiser contains a 9-inch touchscreen that also offers navigation maps. But without the larger setup found in the Range Rover, easily selecting from the menu may prove to be a little more difficult.
Comfort and Luxury
To ensure that you remain comfortable during your next expedition through town, both the 2017 Land Rover Range Rover and the 2017 Toyota Land Cruiser feature standard heated and cooled front seats.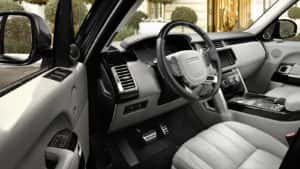 And while both these SUVs also come equipped with optional rear entertainment systems, the Range Rover raises the bar a little higher with tools like a navigation summary screen, WhiteFire® digital wireless headphones, a Mobile Hi-Definition Link, HDMI, and USB connections. That way, your little ones can stay engaged with their movies or video games while you focus on driving.
2017 Range Rover vs 2017 Toyota Land Cruiser Vehicle Comparison: Verdict
At Land Rover Santa Fe, there's nothing more important to us than getting you back on the roads of Santa Fe, White Rock, and La Cienega behind the wheel of an aggressive SUV. So, when it's time for you to take on your next expedition, choose the heart-pounding influence of the 2017 Land Rover Range Rover.
Don't hesitate to take advantage of everything this automobile has to offer. Stop by for a visit or schedule your test drive today!