Land Rover InControl® Apps™

You thrive on having a constant connection to the trendiest applications and the most innovative technologies. When it comes to the time you spend on the roads of Santa Fe, White Rock, and La Cienega, it's important that you're equipped with easy access to your favorite gadgets.
Luckily, your Land Rover comes decked out with the cutting-edge InControl® system that you can test out in person by scheduling a test drive.
To learn more about just how far these devices will take you, let's dive into this Land Rover InControl® Apps™ guide created by Land Rover Santa Fe. Before long, you'll be soaring down your path with all the entertainment and creature comforts you need to enjoy every ride.
Land Rover InControl®: Your Entertainment Center
While you're focusing on what's ahead, make sure that you're armed with a responsive and easy-to-navigate system that won't complicate your life. Luckily, our new inventory of Land Rover SUVs come adorned with the InControl® Touch™ setup that outfits you with an array of state-of-the-art tools, such as:
SiriusXM®
Navigation
Bluetooth® and more
On top of these features, you'll be guided to your next destination with 2D and 3D maps, voice prompts, and a brightly lit, 8-inch touchscreen display. With this system, you won't risk arriving late to an event or appointment.
Taking a step up, the available InControl® Connect Pro Services suits you up with a suite of handy amenities that take your in-vehicle abilities a step beyond where other automobiles settle.
For example, Online Search allows you to browse the maps for local hotspots and provides you with travel tips, as well as reviews. By utilizing this gadget, you can embrace spontaneity and change your plans at the last moment.
In addition, Commute Mode automatically memorizes your frequently traversed routes and updates you on the path of least resistance once you take a seat at the wheel.
That way, you'll always know that you're on the quickest passage to your job. Need to update your coworkers on your commute time? All you have to do is tap into the Share ETA tool, which sends your estimated time of arrival via text message to anyone in your contact list.
Mobility and Versatility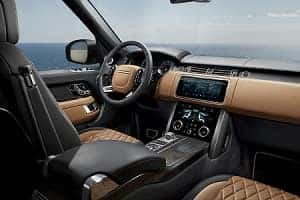 When you're sailing along the highway during a long journey, it's critical that you have access your most beloved applications to help you unwind.
Well, thanks to the advanced Land Rover technology, you'll easily connect to a whole gamut of features that you didn't know you could link to while inside the cabin of your luxury SUV.
Some of the industry-leading devices you'll find inside your ride are things like:
Spotify: Gives you access to your library of playlists and a collection of over 30 million songs.
Newsbeat: 1-minute news stories that can be filtered to only cover your favorite topics.
Cityseeker: A concierge that points you in the direction of popular attractions, hotels, and restaurants in new cities.
Audiobooks: Allows you to catch up on your reading while keeping your eyes on the road.
Parkopedia: Locates the best parking spots in your area from a library of over 28 million parking spaces around the world.
While these are only a few of the optional applications included in your Land Rover, you're sure to fully relax inside your vehicle with the bevy of InControl® apps found in your cabin.
No matter if you love to stay updated on the latest news, spark your imagination with a great novel, or anything else, a world of high-end technology awaits you inside your Land Rover.
Learn More About the Land Rover InControl® Apps!
At Land Rover Santa Fe, we want to help you get familiar with all the luxurious amenities tucked into the sleek cabins of our impressive automobiles. We're happy to provide drivers of Santa Fe, White Rock, and La Cienega with any information you need to learn more about what our technologies can do for you.
So, when you're ready to jump into the details of the ingenious Land Rover InControl® apps contained inside your ride, contact us to schedule a test drive!