Mercedes-Benz G-Class vs Range Rover

If you were to explain the G-Class or Range Rover in just three words, you could very well use capable, stylish, and cutting-edge. Which one would be better for your trips around Santa Fe, White Rock, and La Cienega?
We'll help answer that question in this informative Mercedes-Benz G-Class vs. Range Rover comparison. Discover the similarities and differences between each SUV, and contact us at Land Rover Santa Fe if you have any questions.
On & Off-Roading Capabilities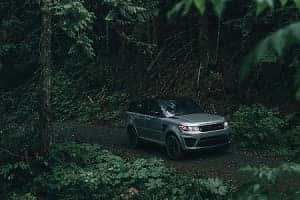 The Mercedes-Benz G-Class and Land Rover Range Rover are some of the most capable off-road SUVs available.
In the G-Class, you'll find three sequentially lockable differentials. Each one can be locked in sequence (center, rear, front) via a set of buttons on the dash. This will help maintain the optimal balance of torque and traction to take on any road surface.
In the Range Rover, you'll get Terrain Response®. There are seven settings to choose from, to match whatever terrain you're traveling on: Comfort, Dynamic, Eco, Grass/Gravel/Snow, Mud & Ruts, Sand, and Rock Crawl. Plus, the available Terrain Response® 2 will automatically select a mode for you, so you can simply focus on driving.
Although each SUV is great off-road, the Range Rover also excels on the smooth city streets and highways. It rides comfortably and provides composed handling. Plus, its base 3.0L V6 engine helps the vehicle achieve an EPA-estimated 17 city/23 highway MPG.
Unfortunately, the G-Class doesn't fare as well around town. Many find the steering to be uncommunicative, with lots of body roll through turns. Plus, it's not nearly as fuel-efficient, achieving an EPA-estimated 13 city/14 highway MPG.
Sophisticated Interiors
Both SUVs deliver on the luxury front, with beautifully crafted cabins filled with premium materials like grained leather and genuine wood trim.
Heated front seats come standard in both models, to stay cozy on colder nights. Plus, they both offer ventilated front seats, heated rear seats, and a heated steering wheel.
The Land Rover SUV goes a step further by also having available ventilated rear seats, so the backseat passengers can cool down just as easily as they can warm up.
Additionally, the Range Rover offers headrests pillows and a 'Hot-Stone' massage function for the rear seats. You can lay back, kick your feet up, and relax, while being driven around town.
Unfortunately, the SUV from Mercedes-Benz doesn't offer anything as enticing as the above-mentioned Executive Class Comfort features.
Cutting-Edge Technologies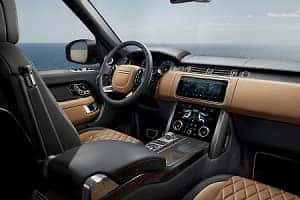 Whether you're the driver or passenger, you'll want to have high-tech features to help keep you connected and entertained. Luckily, you'll find plenty of those in both the Range Rover and G-Class.
They both come standard with SiriusXM® Satellite Radio, which gives you over 100 channels of music, sports, news, and comedy to listen to. They also both come standard with Bluetooth® technology, as well as HD Radio™ for clearer reception on AM/FM radio stations.
The G-Class will display all your media options on an 8-inch high-resolution color central screen. However, the Range Rover has Touch Pro Duo. This means that dual 10-inch high-definition screens are located in the center console. You can view required info on one screen (like the navigation system), while playing media on the lower screen, offering much more capability than in the Mercedes-Benz model.
G-Class vs Rover: Verdict
As you can see, the Mercedes-Benz G-Class and Land Rover Range Rover are very impressive SUVs. However, the Range Rover delivers a much better performance on the smooth streets of Santa Fe, White Rock, and La Cienega.
If you want to learn more about the Range Rover, take a test drive at Land Rover Santa Fe. We'll get you behind the wheel, so you can be one step closer to driving home in your dream car.
Stop by today to experience the Land Rover difference for yourself!