Mercedes G550 vs Range Rover

We all know that famous expression: It's what's on the inside that counts. And with the top-notch luxury of the 2017 Land Rover Range Rover and the 2017 Mercedes G550, that sentiment couldn't be truer.
But if you're looking for class-leading appointments and mindboggling terrain management, only one of these SUVs will expertly handle anything along the roads of Santa Fe, White Rock, and La Cienega.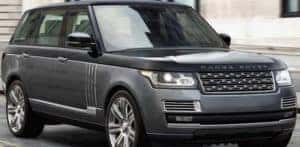 To properly identify which of these high-end automobiles is ideal for your aesthetic tastes, let's jump into this 2017 Mercedes G550 vs. 2017 Land Rover Range Rover vehicle comparison created by Land Rover Santa Fe. Before long, you'll know exactly which car will help you lead the pack down the highway.
Performance and Handling
When the landscape starts to get choppy, that doesn't mean that you should feel it behind the wheel. That's why the 2017 Range Rover arms itself with the optional Terrain Response® 2 system that offers up a selection of different terrain options. Included in this setup are choices like General Driving, Grass/Gravel/Snow, Mud and Ruts, Sand, and Rock Crawl.
On top of that, this vehicle's intelligent electronic suspension keeps every minute of your ride cushioned and comfortable so that you can focus more on having fun. Alternatively, the 2017 Mercedes G550 presents selectable differentials but doesn't have the same capability found in the Terrain Response® 2 setup.
And when it comes to a sturdy ride, many drivers have complained about the bumpy and unsteady feel provided by this SUV. That means that you may not enjoy your time inside this car as compared to its Range Rover counterpart.
2017 Range Rover vs 2017 Mercedes G550: Technology
No matter where you're headed, your vehicle should come packed with upscale features that'll direct you to the appropriate path.
Luckily, the 2017 Range Rover offers up a standard 10-inch InControl Touch Pro™ display with a navigation screen, SiriusXM®, a Wi-Fi hotspot, HD Radio™, and much more. With this collection of tools, you'll easily every inch of your route and quickly choose your favorite tunes.
On the other hand, the 2017 Mercedes G550 contains a standard 8-inch display with navigation and voice recognition. However, without the larger screen of the 2017 Land Rover Range Rover, this setup might prove to be slightly more difficult to maneuver.
Comfort and Convenience
During longer trips, you want to be sure that every inch of your body stays comfortable and all your belongings have a place. And inside the luxurious cabin of the 2017 Range Rover long wheelbase model, you'll be equipped with 82.8 ft3 of storage room with the rear seating folded.
That way, you'll easily pack up all your luggage into this SUV. Plus, the Land Rover Range Rover also includes options like 22-way power-adjustable front seats which allow you to conform your chair to fit your unique shape.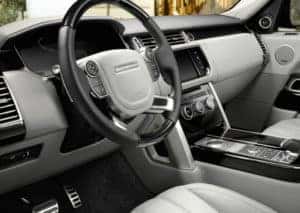 While the 2017 Mercedes G550 presents some comforting amenities, this SUV has only one option of 10-way adjustable seats, which means you won't be able to customize your position as effectively. Additionally, the cargo area provides 79.5 ft3 of space and falls short of what you'll find inside the Range Rover.
2017 Range Rover vs 2017 Mercedes G550 Vehicle Comparison: Verdict
At Land Rover Santa Fe, there's nothing more important to us than your happiness during your next trip through Santa Fe, White Rock, and La Cienega. And with the 2017 Land Rover Range Rover as your sidekick, you'll never question your automobile's ability to command the highway.
So, when you're ready to govern every mile of the highway, stop by our showroom or schedule your test drive today!