Porsche Cayenne vs Range Rover Evoque

When searching for a luxury SUV near Santa Fe, White Rock, or La Cienega, you may want reliable performance. You might want a vehicle with lots of amenities and technologies. Two options that have all these characteristics are the Cayenne and Range Rover Evoque. Which one would satisfy your driving needs more?
We'll help answer that question with this Porsche Cayenne vs. Range Rover Evoque comparison. Learn all about each luxury SUV below, and contact us at Land Rover Santa Fe if you have any questions.
Performance Specs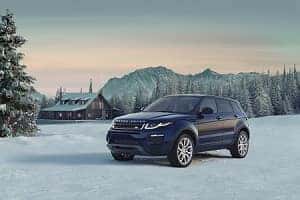 The Range Rover Evoque and Porsche Cayenne are known for being easy-to-drive SUVs with great handling and agility.
The Evoque comes standard with a 2.0L 4-cylinder engine that delivers 237 horsepower and 251 lb-ft of torque. The Cayenne's standard engine is a bit more powerful. Its 3.6L V6 engine puts out 335 horsepower and 332 lb-ft of torque.
However, the Range Rover has better fuel economy. It achieves an EPA-estimated 22 city/29 highway MPG. The Porsche, meanwhile, achieves an EPA-estimated 18 city/24 highway MPG. This means you'll need to stop at the gas station more frequently to refuel.
Off-Roading
While both SUVs are great for everyday city driving, the Evoque is better for off-road traveling. That's because it has features like Terrain Response® and All-Terrain Progress Control.
Terrain Response® lets you choose between four standard settings to adapt to your current terrain: General Driving, Grass/Gravel/Snow, Mud & Ruts, and Sand. There's also an optional Adaptive Dynamics setting, which will fine-tune the suspension to deliver tighter body control with sharper responses.
All-Terrain Progress Control operates like a cruise control system, but functions at very low speeds (under 18 MPH). This is so you can concentrate on steering to find a path through any obstacle.
Unfortunately, you won't find either feature in the Cayenne.
High-Quality Cabins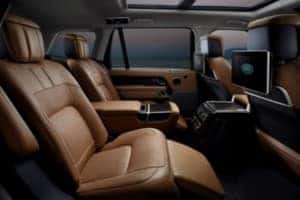 Both the Range Rover and Porsche SUV have sophisticated cabins with premium materials throughout. These include leather seats, genuine wood, and carbon fiber.
Both SUVs offer heated/ventilated front seats, heated rear seats, and a heating steering wheel. This way, you can easily warm up or cool down, no matter the temperature outside.
Furthermore, each vehicle is outfitted with lots of high-tech features to help you stay connected and entertained.
For instance, they both come standard with Bluetooth® technology to easily stream audio or make hands-free phone calls. They also both offer a Wi-Fi hotspot, so everyone on board can surf the web without eating up data on their mobile devices.
The Evoque comes standard with an 8-inch touchscreen, and has an available 10-inch touchscreen, to easily see all your media options.
The Cayenne, on the other hand, has just a 7-inch touchscreen display in all its trims. Plus, many people find the redundant buttons and controls in the center console to be confusing and distracting.
Cayenne vs Evoque: Verdict
In the battle of the the Porsche Cayenne vs. Range Rover Evoque, the Evoque comes out on top. That's because it has better fuel economy and can easily travel on and off-road. It also has a bigger infotainment system that's easier to navigate.
If you're still not sure which SUV is right for your travels around Santa Fe, White Rock, and La Cienega, we can help. Our team at Land Rover Santa Fe is ready to work with you to find the vehicle that matches all of your desired characteristics.
Contact us to schedule a test drive today!