Synthetic Oil Change Interval

Schedule Service Today!
Oil Change near Santa Fe
Getting your car's oil changed is one of the basic forms of maintenance you can do. It's also one of the most important. If you live near Santa Fe, White Rock, or La Cienega and are unsure about your vehicle's synthetic oil change interval, the experts at Land Rover Santa Fe have put together the following information to help you out.
Read on for a lesson in synthetic oil 101: when to get an oil change, signs one is needed, and the benefits of using this type of oil in your Land Rover.
Then, check out our service specials for a great deal on your next oil change!
When to Get a Land Rover Synthetic Oil Change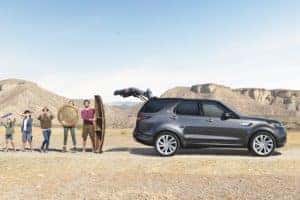 While it depends on which Land Rover you have, a synthetic oil change interval could be 7,500 to 10,000 miles. It could also be every 12 months—whichever comes first.
The secret to this oil's longevity is in its high quality. Synthetic oil is chemically engineered to last longer and work more effectively. While it may come from crude oil, it's altered on a molecular level to protect itself from everyday wear and tear.
A Few Things to Keep in Mind
Because there's no clear answer on when to get an oil change, there are other factors that you can keep in mind.
In fact, the following questions can help determine if this type of maintenance is warranted:
Do you often use your vehicle for towing? Because your engine works harder when towing, it'll also use more oil than usual. This is especially true when towing uphill.
Are you on dirt roads a lot? It's important to keep your motor oil clean, so that it can properly protect the engine. Driving on dirt and gravel roads that tend to get pretty dusty may shrink oil change intervals.
Do you spend a lot of time on the highway? Prolonged highway speeds, especially in extreme temperatures, can put demand on your engine and cause it to use more oil.
Are you more prone to city travels? Considering the other extreme, constant stop-and-go driving can cause you to need an oil change more frequently than normal.
Signs You Need an Oil Change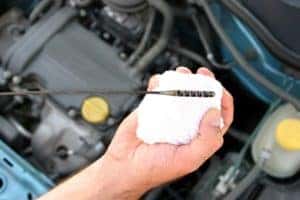 You may not always remember when you last had a synthetic oil change in your Land Rover. In that case, you should keep an eye out for the following warning signs:
Dark and dirty oil: Clean oil should be amber in color and slightly translucent. Over time, though, it can get filled with particles and turn dark brown or black in color. If you notice a change in color and texture (which can be seen by removing the dipstick), then you'll need an oil change as soon as possible.
Burnt oil smell: If you smell oil inside your vehicle's cabin, it's most likely due to an oil leak. If you also smell gas or exhaust fumes, then your Land Rover may be overheating. Either way, you'll want to have things looked over as soon as possible.
Exhaust smoke: Another sign of an oil leak can come from exhaust smoke. Blue or gray smoke could indicate a leak, but it could also mean that you have faulty engine parts.
Knocking noises: Oil is used to lubricate an engine's moving parts. When the oil gets dirty, it can't properly do its job. The result is loud knocking sounds from the engine, which would be the metal-on-metal contact of its components.
While there are a number of different warning signs, one of the most obvious would be the check engine or oil change light. The oil change light could appear on your vehicle's dash if there's not enough oil in the system.
However, if you ignore the issue for too long, then the check engine light could appear. This would mean that the engine is at risk of failing from problem parts or lack of lubrication. That's why you'll want to have your Land Rover looked at as soon as you spot a warning light on the dashboard.
Benefits of Synthetic Oil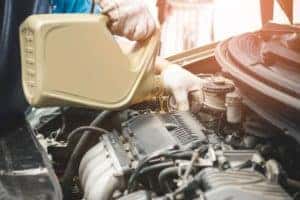 Now that you know when a synthetic oil change is needed, you may be interested in learning about its various benefits.
Aside from a long life, synthetic oil helps to keep your engine clean. Its superior caliber gives it the ability to hold up to the harsh conditions that exist inside an engine. As it encounters these harsh conditions, it's able to keep its integrity, instead of prematurely breaking down.
As oil breaks down, it tends to pick up dirt and other debris as it makes its way through the engine. Eventually, this process continues to accumulate until sludge develops that can potentially harm your engine. Synthetic oil is able to prevent this from happening.
From frigid to sweltering, synthetic oil can also prevent severe temperatures from hindering its performance. It's specifically designed to tolerate such extreme conditions. Therefore, you can count on it to flow just as well in colder environments and to resist evaporation more efficiently when it gets unbearably hot.
Is Synthetic Oil Right for Your Vehicle?
If you're weighing your options to decide whether synthetic oil is right for your car, it's important to note that this type of oil is meant to be the most effective when used in newer vehicles. An older car with many miles under its belt may not necessarily reap the rewards from a synthetic lubricant.
Schedule a Land Rover Oil Change Today
If you're a Santa Fe, White Rock, or La Cienega driver, and you have any questions about how often to have your synthetic oil changed, our team at Land Rover Santa Fe is happy to answer them.
Plus, if you think it may be time for an oil change, you can schedule a service appointment today!