What Is a Full-Service Oil Change?

Oil is what lubricates an engine's moving parts and keeps them nice and cool. Over time, the oil will get dirty and no longer do its job effectively. This could cause your engine to overheat and break down, resulting in costly repairs—and that's why it's crucial to get routine oil changes.
At Land Rover Santa Fe, we perform full-service oil changes for drivers like you around Santa Fe, White Rock, and La Cienega. Answer the question, "what is a full-service oil change", and check out our service specials for exclusive coupons.
What Is Included in a Full-Service Oil Change?
When you get a full-service change, an auto technician will change your car's motor oil with the type that it needs, which could be conventional, synthetic, synthetic blend, or high-mileage oil. You'll also have your used oil and oil filter replaced and recycled. Plus, the vehicle's cabin filter and air filter will be checked and replaced, as needed.
Not only will your automobile get a complete oil change, but the technician will also perform a courtesy inspection, which includes the following:
Top-off fluids (like washer fluid, transmission, differential power steering, and engine coolant).
Check the brake fluid level.
Check the tire pressure.
Inspect for any leaks.
Inspect all the belts, hoses, skid plates, and the undercarriage.
Inspect the steering and suspension.
Lubricate the chassis, as necessary.
Check the wiper blades.
Check the car battery.
Visually inspect for vehicle damage.
Where to Get a Full-Service Oil Change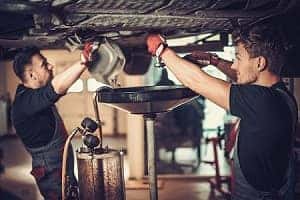 If your vehicle needs a full-service oil change, you can get it done at our state-of-the-art Land Rover service center. At our facility, you'll find a team of highly trained and certified technicians. They have years of experience performing oil changes for all types of cars. Due to this, they can give your vehicle the proper service that it needs.
Our team will only use high-quality oil, along with genuine parts, if any car part has to get replaced. These are the same parts used when an automobile was first built. Therefore, the part will fit inside your vehicle perfectly. It'll also help keep it running well for many years and miles.
In addition, we offer lots of service specials for your convenience. Not only can these include oil and filter changes, but they can also be for tire rotations and 4-wheel alignments.
These specials do change from time to time, so check our specials page to see what we're offering today.
Schedule a Full-Service Oil Change Today
Now that you know what a full-service oil change entails, be sure to look out for symptoms that your car needs maintenance when driving around Santa Fe, White Rock, or La Cienega. If you think it may be time for an oil change or any other service need, our team at Land Rover Santa Fe is happy to help you get back on the road as soon as possible.
Keep your engine healthy and schedule a service appointment today!