Why Change Transmission Fluid?

Have you been cruising around Santa Fe, White Rock, and La Cienega asking yourself: Why should I change transmission fluid? If so, then the experienced technicians here at Land Rover Santa Fe have the answer for you.
We've put together this convenient guide to help with all your transmission fluid needs. We'll talk about when it should be changed, how we can change it, and why it's important. Be sure to contact us with any questions you have.
How Often Should Transmission Fluid Be Changed?
For vehicles with a manual transmission, the fluid be should changed every 30,000 to 60,000 miles. Under heavy-duty use, however, you may want to consider changing it every 15,000 miles. While the service interval for automatic systems can vary, the typical interval for automatic transmission fluid changes is between 60,000 and 100,000 miles.
It's important to change transmission fluid for a variety of reasons. With a manual system, the fluid can become contaminated over time. This contamination occurs as certain components like synchronizers, bearings, and gears begin to wear out. When this happens, metal particles can end up in the liquid. They should be drained out to improve the lifespan of your transmission.
Automatic transmission fluid can also become contaminated, but because there's more heat generated within an automatic system, degradation tends to be more of a problem. When this occurs, the fluid loses its protective properties.
Changing transmission fluid on time is a great way to invest in the overall lifespan of your Land Rover!
Save on your next service appointment with our Land Rover service specials.
The Function of Land Rover Transmission Fluid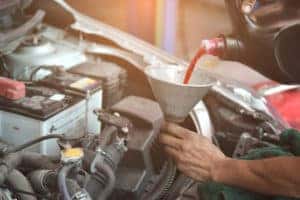 The fluid lubricates the many moving parts that make up the transmission. In an automatic system, it serves as a coolant and can even transmit power from the engine to the transmission.
Automatic systems simply use what's called automatic transmission fluid. Manual systems, on the other hand, utilize either regular motor oil or heavyweight hypoid gear oil.
The most common functions of transmission fluid include:
Cleaning and protecting metal surfaces from wear
Conditioning gaskets
Enhancing cooling function to reduce high operating temperatures
Increasing rotational speed
It's easy to see why something as simple as changing your transmission fluid can have a big impact on your Land Rover.
Getting a Replacement at Our Land Rover Dealership
There are a few signs that your Land Rover may be due for a transmission fluid replacement. If the system is slipping, noisy, or emitting a burning smell, bring your vehicle in for an inspection—it may be time to change the transmission fluid.
When you bring your SUV to us for a replacement, the service will typically take about an hour.
Our process is simple. Since the system drains better at operating temperature, we may let your car idle for a few minutes before we begin. Then, we'll remove the transmission pan and drain it. We'll clean the gaskets and the pan with a special solvent and replace the filter and O-ring. Finally, we'll reattach the pan and fill up your vehicle with the right amount of transmission fluid. Once we check for any leaks or damage, you're good to go!
Get Your Land Rover Transmission Fluid Replaced Today!
Now you know why transmission fluid is important. You also know why you should get it changed at regular service intervals. If you're a driver in Santa Fe, White Rock, or La Cienega, and your vehicle is due for a transmission fluid replacement, contact the service department here at Land Rover Santa Fe.
Schedule a service appointment today!