What Is a Brake Caliper?

The braking system in a Land Rover consists of many parts, including brake calipers. While each component has its own job, they all come together to help keep you safe during your journeys through Santa Fe, White Rock, and La Cienega.
To help our customers better understand their braking system, our team at Land Rover Santa Fe has created this guide that will explain what a brake caliper is. We'll go over its major function and the two different types below. We'll also let you know when it should be replaced to help keep you on top of automotive service. Be sure to contact us today to learn more.
Schedule Service
How Do Calipers Work
Calipers fit over brake rotors like a clamp. The rotor spins along with the wheel, while the caliper remains stationary. Inside each brake caliper are the brake pads. Brake pads come in three different varieties: organic pads use a blend of rubber and resins, while metallic pads are made from a mixture of iron, copper, and steel. Some brake pads are also made of Kevlar.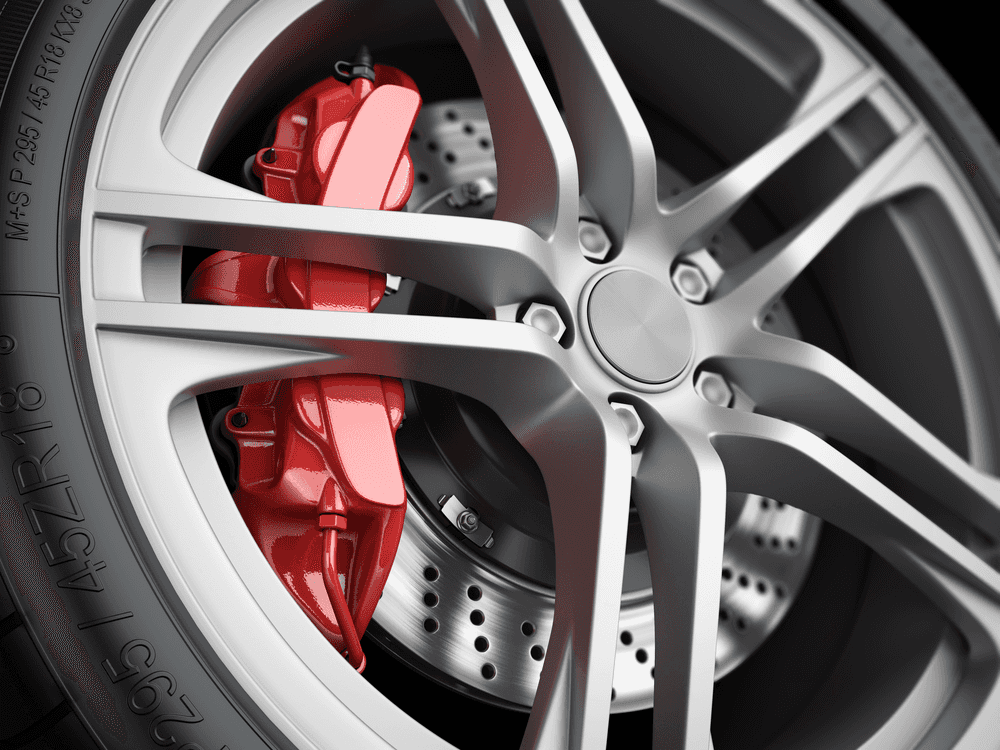 When you push down on the brake pedal, the force of your foot is multiplied through the use of brake fluid. This fluid is sent from the master cylinder and creates hydraulic pressure on one or more pistons inside the caliper. This will then force the pads against the rotor. The friction that is created in this process is what works to slow the car down and bring it to a complete stop.
There are two types of calipers: floating and fixed. Sometimes referred to as sliding, floating calipers are easier to mass produce. Therefore, they are the most common of the two. They move in and out with the rotor. The pistons, which are only located on the inboard side of the rotor, push the entire caliper down when braking pressure is applied. This process allows the brake pads to produce friction on both sides of the spinning rotor.
A fixed caliper, on the other hand, doesn't move at all. It is mounted to a bracket or spindle with no sliding components. They have an equal number of pistons on both the inboard and outboard sides of the rotor. Some can have as many as six pairs. When the brakes are applied, the pistons move at the same time to apply pressure to both sides of the rotor. Fixed calipers are sometimes preferred for their performance and can generally be found in race cars.
Save on your next brake repair with our Land Rover Service Specials…
When to Replace Brake Calipers
It is recommended that brake calipers be replaced about every 75,000 miles, or somewhere between seven to ten years. However, driving habits may cause this number to fluctuate, so it's important to keep an eye out for various warning signs.
Since the calipers apply pressure to the brake pads, they tend to absorb a great amount of heat. As a caliper heats up and then cools down, external and internal corrosion starts to build up, making the caliper sticky. If the calipers are sticking, the vehicle may pull to one side when braking. This can also cause the brake pads to wear down prematurely, So, take your vehicle to a professional if you notice pulling.
Calipers may also have to be replaced if there's an issue with the brake fluid or you notice a leak. Over time, piston seals become hard and lose their elasticity. On top of that, corrosion inside or on the pistons may accelerate wear, and cause a leak. Since your calipers rely heavily on the pressure of brake fluid, it's important to have a leaky one replaced right away.
If you are beginning to hear strange sounds coming from your wheels when braking, it may be time to replace your calipers. As components such as slides, pins, and bushings begin to wear down, they can develop rust and cracks. This will cause the caliper to become loose, and it may not be able to apply the braking pressure that you need. It's important to have your brakes inspected if you hear high-pitched or thudding noises.
Additionally, if it feels like your brakes are engaged even when your foot is off the pedal, this may be a sign of a bad brake caliper. As dust, dirt, and grime build up on its various components, they may cause the caliper to get stuck in a certain position. If that position is one that doesn't fully release the brakes, then it will need to be replaced.
Brake Repair FAQ
One reason your car is shaking could be from warped rotors. Braking removes materials from the discs, where the rotors are located. When the rotors get thinner, they're more susceptible to warping because of the heat that's generated from braking.

Squeaking brakes are often directly correlated with the need for a brake pad replacement. Hearing squeaking when you put your foot on the brake pedal is actually a function that's built into every brake pad in the form of a small metal indicator piece.
Brake Caliper Service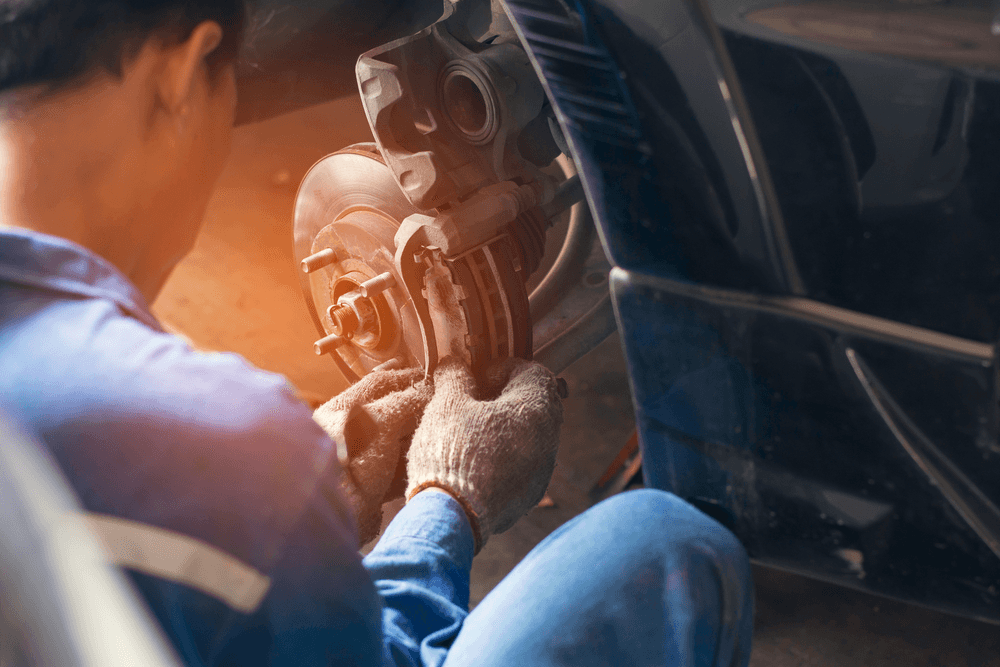 If your brake calipers need to be replaced, then you'll want to bring your car to our state-of-the-art service center and Land Rover Santa Fe. Here, you'll find our team of highly trained technicians with years of experience.
Because they're experts on all things brakes, they can perform any repair or replacement in no time at all. Plus, you can rest assured that each service will be done correctly the first time, every time.
If you have the know-how to replace a brake caliper yourself, take advantage of our parts department. Whether it's calipers or any other kind of braking component, we probably have it in stock. We provide the same genuine parts that our technicians use, so you can rely on the long-lasting fix they'll provide. Best of all, you can order the part you need online!
We don't stop at brake repair either, we know that brakes are just one of the many integral components of your Land Rover. If you need an oil change, engine maintenance, or anything in between, our service technicians can handle it! You'll be back on the road in no time. Plus, you can even browse our rotating list of service specials online.
Schedule Brake Repair Today!
Now that you know more about your brake calipers, you'll be able to tell when they'll need to be repaired or replaced. If you require maintenance on your calipers or any other part of the braking system, then schedule service at Land Rover Santa Fe. We'll make sure your car's brakes are up to the task of keeping you safe on the roads of Santa Fe, White Rock, and La Cienega.
Schedule brake repair for your Land Rover model today!